New Zealand is located in the Southwest Pacific Ocean and consists of two main Islands, the North Island and South Island which are separated by the Cook Strait. The capital of New Zealand is Wellington but the most popular and happening city is Auckland. The total population of New Zealand is approximately 5 Million while the population of Auckland is 1.7 Million. Hence one-third of New Zealand's total population resides in Auckland. The official languages of New Zealand are English and Maori.
Universities in New Zealand
North Island
The University of Auckland
Auckland University of Technology
The University of Waikato
Victoria University  of Wellington
Massey Uniersity
South Island
Lincol University
Canterbury University
University of Otago
Intake
There are generally two Intakes in New Zealand: February and July.
However, ITPs and Private Institutes have multiple Intakes for different courses.
Hence, practically there is an intake every month in some or the other institution resulting in recruitment throughout the year.
Deadlines
There is no deadline as such in New Zealand, but it is recommended to make applications at least 6 months prior to the start date to avoid last moment hassles
Eligible students can work up to 20 hours in any given week during study time and 40 hours during holidays.
Students undertaking a course of 12 months or more may work full-time during the holidays.

The spouse of a student is eligible to work full-time for the duration of the study course, only if the student is studying a full-time course of Level 7 or 8 in areas as specified in the Long-Term Skill Shortage List/Green List. However, partners of students on the study of the course of Level 9 and above can work full-time without any such condition.
The climate is temperate, moderated by the oceans that surround it. It has one of the best climates in the World for plant growth. It has a reputation for being clean and green. It has one of the best scenery and beautiful locations, lakes, flora and fauna. A good highway system makes the country easily accessible.
Popular areas of study in New Zealand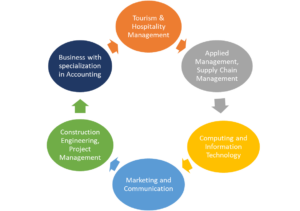 FTS is an option given at the discretion of the visa officer to students whose parents/sponsors do not have funds and who are 6 months old. The student will need to transfer at least 12 months of living expenses (NZD 20,000) to a bank account in NZ – ANZ Bank, in addition to paying the tuition fee of one year.
The amount deposited in the bank is locked for a period of 12 months and then drip-fed back to the student on a prearranged basis once he/she reaches New Zealand. The student will get NZ $1,667 per month towards living expenses once in NZ.